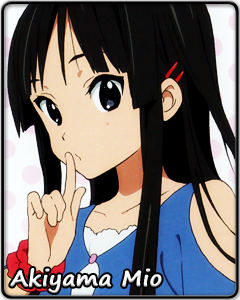 | | |
| --- | --- |
| Name: | Akiyama Mio 「秋山澪」 |
| Title Series: | K-ON! |
| Voiced by: | Hikasa Yōko |
Career ISML Performance
2010: 1st Place. Record: (47-0-2) / (5-0)
2010: Aquamarine Necklace Winner
2010: Tiara Winner
2011: 9th Place. Record: (42-0-7) / (0-1)
2012: 4th Place Stella Division. Record: (32-0-3)
2012: 5th Place League Finals
2012: Topaz Necklace Winner
2013: 8th Place Stella Division. Record: (28-0-7)

Moe Tournament Résumé
Round 1 - Japan Saimoe 2009
20th Place - Korea Best Moe 2009
Group Finalist - Japan Saimoe 2010
1st Place - Korea Best Moe 2010
Round 1 - Japan Saimoe 2011
15h Place - Korea Best Moe 2011
Top 96 - Korea Best Moe 2012

Akiyama Mio would have been happy enough belonging to her school's literature club. Not perfectly happy, maybe, but happy enough.

But fate had something else in store for her. A long-held dream and an overzealous friend lead the shy girl towards a more exciting life. Mio becomes one half of the founding pair of her school's light music club. She might not be the club president on paper, but there is little doubt that she is the most reliable and orderly member of their all girls band. If only she could somehow transfer her diligent nature onto her friends…

In her everyday life, Mio bravely endures the pranks of her childhood friend and the time spent in the zany logic zone their clubroom has become. She distinguishes herself whenever the club is in a pinch; whether it is pleading with the student council or standing in for their inept lead singer, Mio overcomes her personal fears and stands up to the task. She also takes responsibility for writing the group's lyrics – those end up full of fluffy imagery and peculiar metaphors. Both fountain pens and curry rice are intrinsically linked with love, after all.

Mio's struggle to keep the club in one piece, and practicing, seems to be a fight against insurmountable odds. But she's not one to give up. When all is said and done, she is the one who wants them to succeed the most.


Past Notable Matches

Japan Saimoe 2010:
Group Finals: 172-1052-1026 to Nakano Azusa (K-ON!) & Misaka Mikoto (Toaru Kagaku no Railgun)

Korean Best 2010: (1st Place)
Round of 16: 998-905 over Nagato Yuki (Suzumiya Haruhi no Yūutsu)
Quarterfinals: 1373-800 over Shirai Kuroko (Toaru Kagaku no Railgun)
Semifinals: 1489-1488 over Senjōgahara Hitagi (Bakemonogatari)
Final: 2546-2398 over Tachibana Kanade (Angel Beats!)

Korea Best Moe 2012: (Top 96)
74-100-48 to Sengoku Nadeko (Bakemonogatari) & over Evangeline McDowell (Mahō Sensei Negima!)

Korea Best Moe 2011: (15th Place)
Round of 16: 155-371 to Akemi Homura (Puella Magi Madoka ☆ Magica)


ISML 2010 Regular Season: (3rd Seed)
Amethyst 7: 3179-3021 over Shana (Shakugan no Shana)
Ruby 7: 2827-2850 to Aisaka Taiga (Toradora!)
Diamond 7: 3400-3482 to Katsura Hinagiku (Hayate no Gotoku!)

ISML 2010 Championship: (1st Place)
Preliminary Round: 4156-2987 over Sanzen'in Nagi (Hayate no Gotoku!)
Winner Round 1: 3384-2872 over Nagato Yuki (Suzumiya Haruhi no Yūutsu)
Winner Round 2: 3353-3076 over Nakano Azusa (K-ON!)
Winner Round 3: 5318-4626 over Misaka Mikoto (Toaru Majutsu no Index)
Championship Round: 7175-5186 over Misaka Mikoto (Toaru Majutsu no Index)

ISML 2011 Regular Season: (9th Seed)
Emerald 6: 3270-3272 to Aisaka Taiga (Toradora!)

ISML 2011 Championship: (9th Place)
Round of 16: 4491-4513 to Katsura Hinagiku (Hayate no Gotoku!)

ISML 2012 Regular Season: (4th Place)
Emerald 7: 3519-3467 over Shana (Shakugan no Shana)

ISML 2013 Regular Season: (8th Seed)
Ruby 6: 3497-3492 over Nakamura Yuri (Angel Beats!)