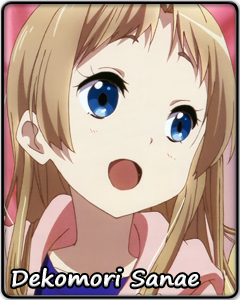 | | |
| --- | --- |
| Name: | Dekomori Sanae 「凸守早苗」 |
| Title Series: | Chūnibyō demo Koi ga Shitai! |
| Voiced by: | Uesaka Sumire |
Career ISML Performance
2014: 29th Place Nova Division. Record: (8-0-27)

Moe Tournament Résumé
Round 1 - Great Awwnime Bracket 2012
Round of 64 - Animefans Saimoe Tournament 2013
Round 5 - Girls Bracket 2013
Round 2 - Japan Saimoe 2013
Round 3 - Great Awwnime Bracket 2014
Round 2 - Best Girl Contest 2014
Round 1 - Japan Saimoe 2014
Round of 64 - Animefans Saimoe Tournament 2014

What does it take to break down the wall to a parallel dimension and submerge oneself in a world of teenage delusions? To each their own, as they say: an eyepatch and colored contacts for some, dark trenchcoats or bridal veils for others. For Dekomori Sanae, all it takes is a pair of sandbags tied to her twintails before she is ready to face the alternate reality. The pain of her blonde hair being stretched to uncomfortable lengths is a small price to pay in order to wield the power of the Might Mjolnir Maul.

Despite her appearances, "Deko-chan" is more than able to put her large forehead to use. As one of the top students of her class, she is not easily stumped by the scholarly trials of this world she must face every grading period. Thus, she is free to spend her time pursuing the dreams of her destiny-bound master and endeavoring to reunite herself with Mori Summer – the last magician on Earth and her delusional idol.

Among those devoted to the art of delusionary travels, Sanae is a blessed practitioner with friends both from the real world and the alternate world. Her master provides her with constant guidance, and her schoolmates adore her for who she is, both in and out of class. As for worthy opponents for her to fight, the Mjolnir Hammer is locked in a never-ending struggle against the fake version of Mori Summer… and the vile substance called milk.

Right now, Dekomori Sanae might not know what challenges await her in the days to come. But whatever the obstacles ahead, she is sure to smash the way open with the help of her trusted comrades and hammer.


Past Notable Matches

ISML 2014 Regular Season: (10th Place)
Aquamarine 1: 3665-3586 over Charlotte Belew (Machine-Doll wa Kizutsukanai)
Amethyst 4: 2498-2630 to Yui (Sword Art Online)
Emerald 4: 2174-2148 over Haqua du Lot Herminium (Kami nomi zo Shiru Sekai)
Emerald 6: 2305-2221 over Shokuhō Misaki (Toaru Majutsu no Index)
Emerald 7: 3086-3114 to Natsume Rin (Little Busters!)
Topaz 1: 2358-2398 to Laura Bodewig (IS )


Great Awwnime Bracket 2012: (Round 1)
Round 1: 122-212 to Tōwa Erio (Denpa Onna to Seishun Otoko)

Animefans Saimoe Tournament 2013: (Round of 64)
Round of 64: (336 + 18)-(550 + 44) to Okinawa Tsurara (Nurarihyon no Mago)

Girls Bracket 2013: (Round 5)
Round 5: 790-1262 to Nakano Azusa (K-ON!)

Japan Saimoe 2013: (Round 2)
Round 2: 214-83-243 over Ikeda Kana (Saki) & to Oomuro Sakurako (Yuru Yuri)

Great Awwnime Bracket 2014: (Round 3)
Round 3: 327-375 to Yonomori Kobeni (Mikakunin de Shinkōkei)

Best Girl Contest 2014: (Round 2)
Round 2: 2377-2390 to Harime Nui (Kill la Kill!)

Japan Saimoe 2014: (Round 1)
Round 1: 105-244-44 to Haramura Nodoka (Saki) & over Cecilia Alcott (IS )

Animefans Saimoe Tournament 2014: (Round of 64)
Round of 64: (198 + 6)-(479 + 99) to Kurousagi (Mondaiji)