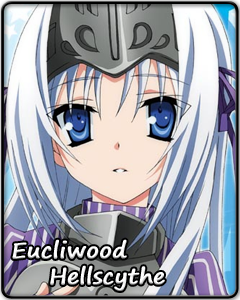 | | |
| --- | --- |
| Name: | Eucliwood Hellscythe 「ユークリウッド・ヘルサイズ」 |
| Title Series: | Kore wa Zombie Desu ka? |
| Voiced by: | Tsukimiya Midori |
Career ISML Performance
2011: 12th Place. Record: (39-0-10) / (0-1)
2011: Diamond Necklace Winner
2012: 2nd Place Nova Division. Record: (34-0-1)
2012: 2nd Place League Finals
2012: Emerald Necklace Winner
2013: 5th Place Stella Division. Record: (32-0-3)
2013: 3rd Place League Finals
2014:
2015:
2016:

Moe Tournament Résumé
2011: Anime Saimoe Tournament - Round of 288
2011: Animefans Saimoe Tournament - Round of 32
2011: Korean Best Moe - Round of 96
2012: Anime Saimoe Tournament - Round of 288
2012: Animefans Saimoe Tournament - Round of 16
2012: Baidu Anime Saimoe Tournament - Round of 16
2012: Baidu Harem Moe - Round of 32
2012: Korean Best Moe - Round of 96
2013: Anime Saimoe Tournament - Round of 288
2013: Animefans Saimoe Tournament - Round of 32
2013: Baidu Harem Moe - Quarterfinalist
2014: AnimeGirl Saimoe Tournament - Round of 64
2014: Baidu Harem Moe - Finalist
2014: Best Girl Contest - Round of 256
2015: Best Girl Contest - Round of 512
2016: Best Girl Contest - Round of 512

The omnipotent girl who acts as the center of the universe.

Unlike what her reputation suggests, Eucliwood, who prefers to shorten her name to 'Eu', does not dwell in a mysterious vortex of power somewhere in the tenth dimension. She can be more commonly found sitting outside a nearby convenience store. If one does not mind her universe-bending powers, there should be no harm in inviting her in for dinner.

Eucliwood is a girl of few words and a hefty appetite. It might be difficult to get a proper conversation going with her, but she is certain to remind her caretaker about food. Eu seems like a pretty pet just asking to be hugged, but she can get demanding or lash out in self-defense. Like some cats, she considers herself the master of any household she enters.

For added amusement, Eu's caretaker can also try to break her poker face. Eu has been reported to show signs of a smile when exposed to particularly ridiculous sights. Although the chances of success are low, it is said that something special happens when Eu shows emotion. Is it something good, or something bad? You never know until you try.


Past Notable Matches

ISML 2011 Championship: (12th Place)
Round of 16: 4316-5133 to Gokō Ruri (Kuroneko) (Ore no Imōto ga Konna ni Kawaii Wake ga Nai)

ISML 2013 Championship: (3rd Place)
Round of 16: 6314-4229 over Hasegawa Kobato (Boku wa Tomodachi ga Sukunai)
Quarterfinals: 6555-5644 over Shiina Mashiro ((Sakura-sō no Pet na Kanojo)
Semifinals: 4738-6792 to Gokō Ruri (Kuroneko) (Ore no Imōto)


Korea Best Moe 2012: (Top 96)
87-118-64 to Kinoshita Hideyoshi (Baka to Test to Shōkanjū) & over Fukuji Mihoko (Saki)