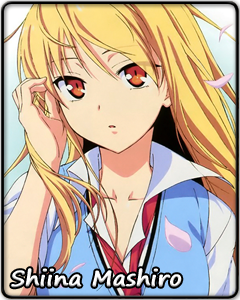 | | |
| --- | --- |
| Name: | Shiina Mashiro 「椎名ましろ」 |
| Title Series: | Sakura-sō no Pet na Kanojo |
| Voiced by: | Kayano Ai |
Career ISML Performance
2013: 1st Place Nova Division. Record: (35-0-0)
2013: 5th Place League Finals
2013: Topaz Necklace Winner
2013: Sapphire Circlet Winner
2014:
2015:
2016:

Moe Tournament Résumé
2012: Baidu Nova Moe – 2nd Place
2013: Baidu Harem Moe - Semifinalist
2014: Best Girl Contest - Round of 16
2013: The Great Awwnime Bracket - Semifinalist
2014: Animefans Saimoe Tournament - Round of 16
2014: Baidu Harem Moe - Round of 16
2013: Animefans Saimoe Tournament - Round of 16
2016: AnimeGirl Saimoe Tournament - Quarterfinalist
2014: Baidu Nova Moe - Round of 32
2014: The Great Awwnime Bracket - Round of 16
2014: Hongkong Golden Saimoe - Round of 16
2016: Best Girl Contest - Round of 128
2015: Best Girl Contest - Round of 128
2013: Baidu Nova Moe - Round of 48
2013: Anime Saimoe Tournament - Round of 288
2015: Miss Anime Tournament - Round of 32

The flame of artistic passion burns voraciously in this girl's heart, leaving a path of destruction in its wake. There is no reason, no hesitation, and no doubt inside her, just her art and her objective. And when the fires of Shiina Mashiro's soul finally burn out, there will be nothing left but pure-white ash.

The combination of Shiina's devotion to art and her overwhelming talent soon brought her to the top of the artistic world, far removed from the troubles and aspirations of the common folk. This might be for the better, though, as Mashiro's extreme lack of common sense and interpersonal skills make her much like an alien fumbling her way through the maze of Earth's ways and customs. Mashiro could use a manual for the proper use of panties or the procedures of making a purchase at a convenience store. But a better alternative might be to have somebody keep watch of the genius 24/7 and prevent her from getting into trouble.

But those trying to become close to Mashiro risk getting burned by the girl's fire. Mashiro herself has no idea what effect her talent has on those struggling to take their first steps towards a dream. But how could Mashiro understand the doubt and resignation of others when she herself has yet to come to terms with her own feelings? Before, she was happy to be alone with her painting. Now that her world is slowly widening, she has to face new questions about what it is she truly desires.


Past Notable Matches

ISML 2013 Championship: (5th Place)
Round of 16: 6431-4445 over Kōsaka Kirino (Ore no Imōto)
Quarterfinals: 5644-6555 to Eucliwood Hellscythe (Kore wa Zombie Desu ka?)