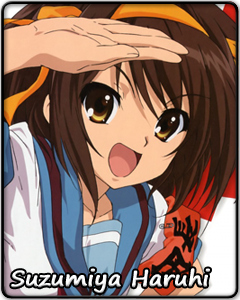 | | |
| --- | --- |
| Name: | Suzumiya Haruhi 「涼宮ハルヒ」 |
| Title Series: | Suzumiya Haruhi no Yūutsu |
| Voiced by: | Hirano Aya |
Career ISML Performance
2008: 9th Place. Record: (59-1-0-3) / (1-2)
2008: Ruby and Diamond Necklace Winner
2009: 9th Place. Record: (59-0-0-4) / (1-2)
2010: 8th Place. Record: (41-0-8) / (2-2)
2011: 10th Place. Record: (40-0-9) / (0-1)
2012: 8th Place Stella Division. Record: (28-0-7)
2012: 13th Place League Finals
2013: 15th Place Stella Division. Record: (21-0-14)
2014:
2015:
2016:

Moe Tournament Résumé
Round 3 - Japan Saimoe 2006
3rd Place - Korea Best Moe 2006
2nd Place - Korea Super Best Moe 2006-2007
Round 1 - Japan Saimoe 2008
Round 3 - Japan Saimoe 2009
15th Place - Korea Best Moe 2009
Round 1 - Japan Saimoe 2010
11th Place - Korea Best Moe 2010
2006: Anime Saimoe Tournament - Round of 32
2006: Korean Best Moe - 3rd Place
2007: Korean Super Best Moe - 2nd Place
2008: Animefans Saimoe Tournament - Quarterfinalist
2008: Baidu Harem Moe - Quarterfinalist
2009: Anime Saimoe Tournament - Round of 32
2009: Baidu Harem Moe - Round of 6
2009: Korean Best Moe - 15th Place
2010: Animefans Saimoe Tournament - Round of 16
2010: Korean Best Moe - 11th Place
2010: Korean Super Best Moe – 2nd Place
2011: Animefans Saimoe Tournament - Quarterfinalist
2011: Baidu Harem Moe - Round of 16
2012: Baidu Harem Moe - Quarterfinalist
2014: Best Girl Contest - Round of 32
2016: Best Girl Contest - Round of 16

"I have no interest in ordinary humans. If there are any aliens, time travelers, espers, or dimension sliders out there, come find me!"

Not your typical high school introduction, but for Suzumiya Haruhi, nothing less would have sufficed. Brave souls who try talking to Haruhi are met with a simple 'not worth my attention.' Master of both pen and sword, and with good looks to boot, she should be a popular girl surrounded by fans. Yet, her spiteful you-are-too-ordinary attitude, nurtured since her time in middle school, drives everyone away. So beneath her attention are ordinary humans that she doesn't care if boys are still around when it is time to get changed for PE classes. But nobody can predict what will happen when the ever-discontent Haruhi is inspired to make her own club – the only one worthy of her membership.

Haruhi is always quick to take action and not at all familiar with the word 'restraint.' Her illegal club thrives thanks to her fighting spirit and clever tactics, which is what she calls extortion and kidnappings. The club's activities are decided according to Haruhi's changing interests and short attention span, but the long-term objective is to seek out supernatural creatures capable of satisfying Haruhi's lust for the extraordinary. It is a mystery if Haruhi finds people willing to plead eternal loyalty to her cause thanks to her leadership skills alone or if there is something more to her than meets the eye...

Haruhi might sometimes seem more like a force of nature than a rationally thinking individual. But, appearances can be deceiving. From time to time, even she has to pause in her mad dash ahead. And when she does, she thinks about the true reason behind her wild escapades and a look of melancholy, so unlike her, appears on her face. But at the same time, with every day spent with her new companions, Haruhi comes closer to the realization that what she has been so desperately looking for might actually be right by her side.


Past Notable Matches

ISML 2008 Regular Season: (3rd Seed)
Ruby 5: 259-259 over Izumi Konata (Lucky☆Star), OT win

ISML 2008 Championship: (9th Place)
Preliminary Round: 753-473 over Kawasumi Mai (Kanon)
Winner Round 1: 562-593 to Nagato Yuki (Suzumiya Haruhi no Yūutsu)
Loser Round 2: 676-677 to Izumi Konata (Lucky☆Star)

ISML 2009 Regular Season: (2nd Seed)
Ruby 5: 1476-1463 over Konjiki no Yami (To Love-Ru)
Ruby 8: 1533-1558 to Aisaka Taiga (Toradora!)

ISML 2009 Championship: (9th Place)
Preliminary Round: 2125-1887 over Shinku (Rozen Maiden)
Winner Round 1: 1119-1429 to Nagato Yuki (Suzumiya Haruhi no Yūutsu)
Loser Round 2: 1387-1524 to Hiiragi Kagami (Lucky☆Star)

ISML 2010 Championship: (8th Place)
Preliminary Round: 3966-3262 over Saber (Fate/stay night)
Winner Round 1: 2835-3406 to Shana (Shakugan no Shana)
Loser Round 2: 3199-3023 over Sakagami Tomoyo (CLANNAD)
Loser Round 3: 3160-3764 to Aisaka Taiga (Toradora!)

ISML 2011 Championship: (10th Place)
Round of 16: 4086-5359 to Aisaka Taiga (Toradora!)

ISML 2013 Regular Season: (15th Place)
Amethyst 5: 4170-4218 to Last Order (Toaru Majutsu no Index)


Korea Best Moe 2006: (3rd Place)
Round of 16: 790-376 over Suigintō (Rozen Maiden)
Quarterfinals: 617-605 over Nagato Yuki (Suzumiya Haruhi no Yūutsu)
Semifinals: 619-630 to Sawachika Eri (School Rumble)

Korea Super Best 06-07: (2nd Place)
Semifinals: 1161-1146 over Nagato Yuki (Suzumiya Haruhi no Yūutsu)
Finals: 1168-1185 to Shana (Shakugan no Shana)

Korea Best Moe 2009: (15th Place)
Round of 16: 1058-1698 to Nagato Yuki (Suzumiya Haruhi no Yūutsu)

Korea Best Moe 2010: (11th Place)
Round of 16: 798-1083 to Senjōgahara Hitagi (Bakemonogatari)